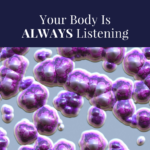 Your Body is ALWAYS Listening – Happiness Seekers Online
Are you struggling with illness, pain or disease?
Have you tried everything but have experienced little to no improvement?
Did you know that your body is always listening? ALWAYS!
This month in Happiness Seekers Online we are going to address the real reasons we are still suffering, in pain, and struggling with health issues. This is an amazing opportunity to really listen to and tune into your body, so that you can experience a new level of wellness than ever before.
During this 1.5 hour session we are going to be using some simple, yet powerful processes to
Notice the messages you are giving your body everyday
Understand how unconscious thoughts, beliefs and emotions are affecting your health and wellbeing
Understand the true root of your health challenges and why you are not healing
Learn how to erase pain quickly and effectively, without the need for medication
Discover your body's innate healing wisdom and set yourself on a path to self-healing
WHO IS THIS FOR?
Everyone! Everyone that wants to gain a better understanding of the mind/body connection so they can improve their health. Wherever you live in the world. Whatever your time zone. Join us for 1.5 hours' of self care time dedicated to your emotional wellbeing and happiness.
REPLAY AVAILABLE
This is a practical and interactive online session utilising science-based, proven techniques to guarantee long-lasting results. If you can't make the online session, a replay is available 1-2 days afterwards for all registered attendees. If you feel triggered or need additional support to work on a personal matter in a confidential setting, you might want to consider booking a personal session with me.
ENSURING YOUR PRIVACY / TERMS & CONDITIONS
This a live and interactive online event delivered via Zoom, an easy to use and install online platform. Interaction is encouraged, but not essential for results. If you wish to remain anonymous, I recommend you change your user name before you enter the online Zoom event (you have the option to change this when you join the event with your unique meeting ID). Additionally, you can opt to turn off your video and microphone during the class so you will not be visible. Please read the following terms and conditions regarding your participation in this online event:   terms and conditions
TO REGISTER
Simply Add to Cart and follow the instructions to set up your account or checkout as a guest. You will be emailed a confirmation of your order along with instructions on how to join the online event.