Weight No More! – 6 Weeks Online
Back By Popular Demand – My Signature Weight Release Program
I am delighted to announce I will be running my popular, online Weight Release program in August 2017.
I created this program for people who are sick of many failed attempts at losing weight. I have designed it for all the emotional eaters, fasters, detoxers, exercise haters, binge eaters and anyone who is fed up with the weight loss merry-go-round.
I 100% believe in this program because I am testament to the fact that it works! I have completely revolutionised my relationship with food. It no longer controls me. I am no longer looking at food to numb out and avoid. I have an amazing relationship with food, but more importantly, a great relationship with myself!
"I participated in the Releasing Weight by Changing Your Mind with Pam in 2015 and as a result I now have the tools to take on any challenge around weight loss and am a better person for the experience."
This is a powerful, results-based and practical 6-week interactive and online weight release program designed to identify and eliminate the emotional, psychological, mental and physical aspects that support weight problems and their associated symptoms.
Limited to 25 participants, the program has been crafted to proactively address and release the blocks that stop us from achieving and maintaining healthy weight goals, including:
Previous weight loss attempts and failures
A lifetime of dieting/purging/detoxing
Unhealthy beliefs
Early programming
Cravings and unhealthy food choices
Resistance to exercise
Low water intake
Negative events and memories
Strong or uncomfortable emotions
Attitudes that support the impossibility of anything ever working
"Thank you Pam so much for your time and dedication in our recent weight release course. It was awesome! I now make so much better food choices and my portion sizes are a lot smaller. The encouragement to keep moving to improve our fitness and health was and is so helpful. Working with a group of those fighting many of the same issues also was very helpful. As it was often said in the course….this is for the rest of our life! My sincere gratitude for such a wonderful course."

~ Jen, Kingaroy, Qld
What to expect?
Have your mindset completely challenged and turned on its head as you discover the real reasons you are struggling with your weight
Break the vicious cycle of dieting and the emotional and physical toll it has had on your mind and body
Release weight by using the infinite and amazing capabilities of your mind in a supported and safe environment
Be accountable to your weight release goals and draw support from a group of like-minded people who walk this path with you
Learn practical, simple and highly effective tools for the times you are feeling triggered, challenged or tempted
Take control of your unhealthy eating habits and end years of self-loathing and self-sabotage
Learn how to really love and accept your body, and create new rituals in self-care
"Whilst doing Pam's Releasing Weight by Changing Your Mind course I released over 9 kg which was above awesome.  I took the opportunity to do a gut repair eating programme at the same time and I found the regular check ins with the group kept me accountable with my gut repair for a whole 4 weeks – always given up after 2 weeks before!  The skills helped when I got wobbly and it also reminded me to use it for all the day to day glitches in life too, so it was doubly helpful.  It has been a few weeks now since Pam's course finished and even though we had Christmas food fest, I kept at it and the weight has stayed off.  Thank you so very much Pam, I am recommending your seriously great course to everyone." ~ Christina
Amazing results in health and wellbeing!
During previous programs, I was privileged to witness amazing transformations in health and wellbeing. After 8 weeks, one participant went off all Blood Pressure medication, one was able to avoid going on the same prescribed medication and another stabilized her blood glucose levels to normal range. Incredibly, one gentleman, who drank up to 2 litres of Coke a day, didn't even have one sip of his favored soft drink throughout the entire 6 week program.
"I attended Pam's weight release program recently. I have a much better relationship with food and my body. I am eating healthier food, drinking Adelaide water and not cordial, drinking less alcohol and I am generally much kinder to myself, which is the most important thing. If have a cake or a chocolate I am ok with that because I haven't given them up. I know in my mind I am making better lifestyle choices for the rest of my life. All of the activities and support and words and faces are with me still. It's a fantastic place I am in now. Optimistic!" 

~ MOC
This program is for you if:
You have a few stubborn kilos you want to release, that prevent you from feeling at your most healthiest and fittest
You've tried everything to lose weight and yet nothing ever works
You consider yourself overweight, obese or not in the healthy weight range
You struggle with low self worth or negative body image
You abhor exercise or have strong food cravings
You've tried every diet, pill, shake, smoothie, fast, detox, eating plan, gym
It's time to end the insanity of it all. Address the mind and the body will follow….every time!
This program is

NOT

for you if:
You are not ready to develop a new mindset regarding your weight and body image
You are not prepared to take complete responsibility for your health and wellbeing
"The best part of the Releasing Weight seminar for me was the community.  Almost all of us made each and every weekly meeting.  Supporting and encouraging one another, having a place to celebrate small changes, gave me energy and motivation to continue on my weight release path. Thank you, Pam, for your leadership and your hospitality." 

~ Lura
Benefits of this unique approach to releasing weight
This program is offered in a small group setting, from the comfort of your own home.  You will have an amazingly strong and helpful support network, every step of the way, which will fortify your motivation to succeed.
You will become ultra clear about your goals and what you want to get out of the program. This clarity will help you accelerate your results, beyond anything you have ever imagined for yourself.
You will be introduced to the mind-blowing techniques that will be used throughout the 6 week program and beyond to annihilate negative beliefs, memories, events, thoughts, cravings, long-term conditioning, emotions, plus much, much more. Once you have learned these skills, you will have them

on hand, whenever you need them

; outside the weekly live coaching calls.
You will discover how to avoid self-sabotaging your best efforts, and how to create a new, positive, and believable image of yourself in the future.
You will learn how to feel supported in your weight release journey and what to do when your loved ones aren't supporting you in the way you need.
You will create long-term, sustainable habits and routines that encourage the body and mind to work together for ultimate health.
You will address any reluctance, fear or anxiety about the future – maintaining your ideal weight, keeping it off permanently and avoiding weight regain.
"I learnt alot about myself in this weight loss course. I learnt the importance of exercise, better food choices, eating after a certain hour and much more. I loved this course so much that I'm doing it again!"
Investment
Member $297 (AUD)
6 x 1 1/2  hour live coaching sessions in an interactive group format (limited to 25 people) using the Zoom webinar platform
Access to a closed and private Facebook group for support throughout the entire program
Replays of all weekly coaching sessions
Plus a couple of seriously great bonuses – see further details below
VIP Member $447
Become a VIP Member of Weight No More! and you will receive all of the above mentioned inclusions, PLUS a 1:1 private, customised coaching call with myself to help radically accelerate your results. During the program many people discover what is truly holding them back, thereby eliminating all the guesswork. This is why I highly recommend a personalised session to all participants, prior to completion of the program. One on one sessions are powerful and intensive because we take a deep and close look at your individual underlying subconscious patterns and eliminating them.
Bonuses When You Register
Not only will you receive all of the above mentioned, your program bonuses include:
Bonus #1: A digital copy of my "I Am Enough" audio program (valued at $18.95)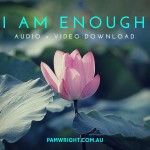 Bonus #2: A downloadable mp3 of the Wright Slimming Solution Hypnotherapy program (valued at $14.95)
Program Dates/Times
Our meetings will be held weekly on consecutive Tuesday Evenings at 7pm (AEST) commencing Tuesday 29th August 2017.
There are some pre-coaching session activities that need to be done before the live coaching calls. Therefore, registrations close one week prior on Tuesday 22nd August 2017 so I can organise to get pre-program materials to you!
Program Delivery
I use a free, easy to use, online platform called Zoom Meetings, which is available on PC, Mac and mobile devices. All you need to do is download the Zoom software or app, enter in a unique meeting ID (which will be provided to you upon registration) and you'll be able to join the weekly meeting. All meetings will be available for replay if you are unable to make it online.
So, just to recap…
> NO RULES AND RESTRICTIONS
> NO SPECIAL DIETS OR MEAL PLANS
> NO EXERCISE PLANS
> NO DEPRIVATIONS
> NO NEED FOR WILLPOWER
I hope to show you how you can have a healthier relationship with food and your body too! Register now to secure your place…
Pam xo