The True Art of Trust and Surrender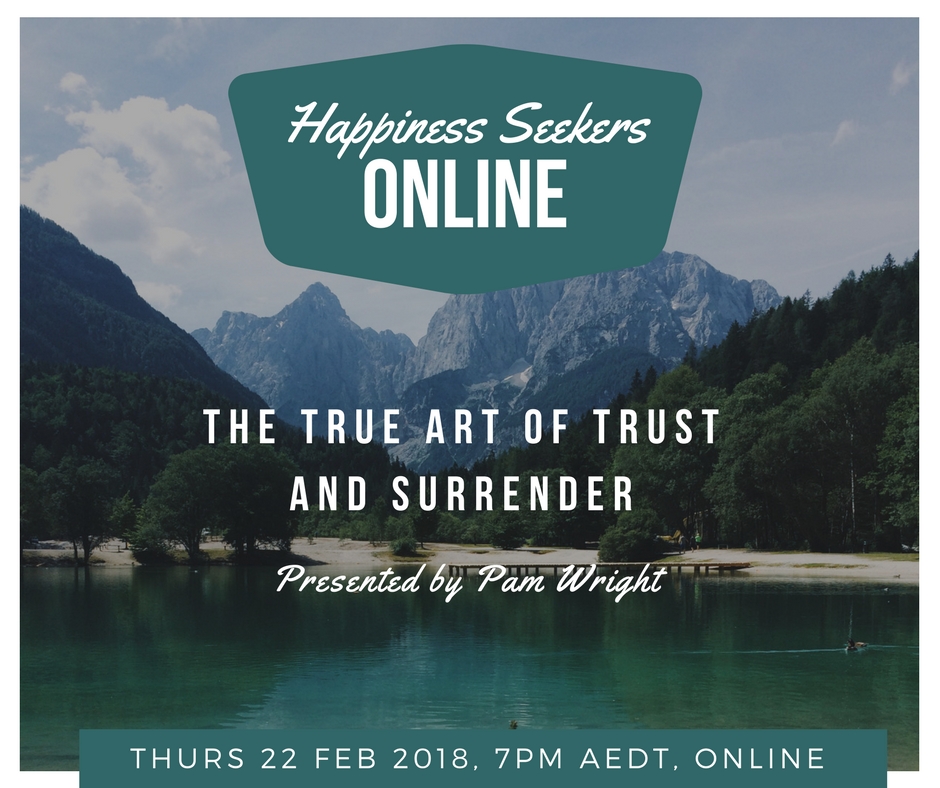 The root of all control is fear. 
While it may feel good to be in control, it is actually an illusion. We really don't have control over anything or anyone, aside from ourselves.
What areas of your life are you guilty of controlling others? If you look a little deeper you might be able to identify the ways you are being fearful.
Are you controlling a spouse? Your children? Colleagues?
Is your control connected to a fear that you are not good enough? Or that you simply can't trust people because something will go wrong?
Our second Happiness Seekers Online for 2018 is about uncovering the true art of trust and surrender.
Wouldn't it be good to be able to trust in the natural flow of life? To feel like, "I've got this!"
February is the month for complete surrendering:
Learn how to increase your trust
Discover how to become free of your fears (the root of control)
Release the stress and anxiety connected to surrendering control and "how it should happen".
Develop an internal
Release any anger or feelings of being a 'victim'
WHO IS THIS FOR?
Everyone! No matter where you live in the world, you can simply join us online for a 1.5 hour session dedicated to your emotional wellbeing and happiness.
REPLAY AVAILABLE
This is a practical and interactive online session utilising science-based, proven techniques to guarantee long-lasting results. If you can't make the online session, a replay is available 1-2 days afterwards for all registered attendees. If you feel triggered or need additional support to work on a personal matter is a confidential setting, you might want to consider booking a personal session with me.
ENSURING YOUR PRIVACY / TERMS & CONDITIONS
This a live and interactive online event delivered via Zoom, an easy to use and install online platform. Interaction is encouraged, but not essential for results. If you wish to remain anonymous, I recommend you change your user name before you enter the online Zoom event (you have the option to change this when you join the event with your unique meeting ID). Additionally, you can opt to turn off your video and microphone during the class so you will not be visible. Please read the following terms and conditions regarding your participation in this online event:   terms and conditions
TO REGISTER
Simply Add to Cart and follow the instructions to set up your account or checkout as a guest.