FREE – The Real Joy of Giving – Happiness Seekers Online
> Are you yearning for wealth and wellbeing, and an overflowing amount of joy and love that you haven't experienced in a while (which has nothing to do with money or gifts).
> Need some nurturing and nourishment at this busy time of year?
> Feeling wrung out and have nothing left to give this Christmas?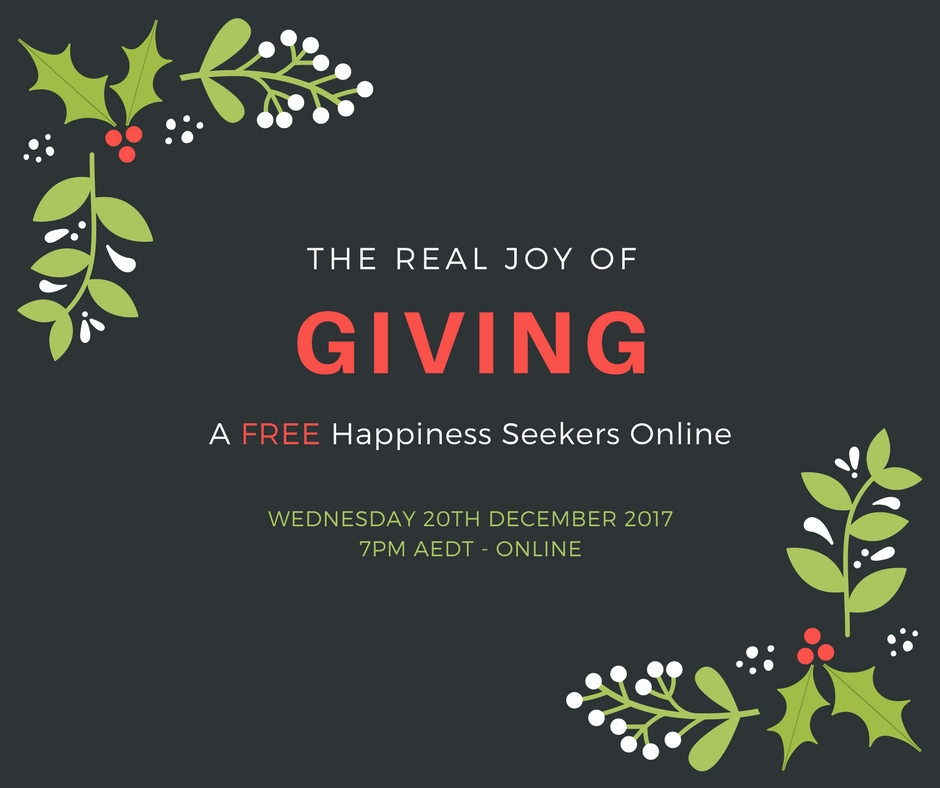 Register Now – Limited to the first 50 online attendees
This December, I am gifting a FREE Happiness Seekers Online session, "The Real Joy of Giving" to you all.
In this modern day, it's all about the latest gadgets and gifts and instant gratification. But, what we're all screaming out for, more than any physical or monetary gift, is LOVE. Do you realise, you have so much to give, and it doesn't include a single toy or gadget? Scroll back to your childhood and what remains clear in your mind? The new, shiny bike you received, or the memory of laughter, being together, family time, playing? Even if you are absolutely financially strapped, you still have so much to give – a smile, your appreciation, or quality time with a friend or loved one.
I dedicate this online session to releasing the thoughts that Christmas is all about giving gifts and letting go of any lack or scarcity around this, including:
– Tapping into our creative source
– Appreciating the true blessings in our life
– Releasing the lack, scarcity and overwhelm, enabling you to connect deeper with that creative part of you
– Lifting the pressures, stresses and burdens from the past year
– Healing grief and loss (which is very prevalent at this time of year for many people)
– Removing what's stopping or limiting you from being completely in your heart, in flow, and in true joy this Christmas
WHO IS THIS FOR?
Everyone! No matter where you live, whether you are financially poor, time poor or looking for more peace and harmony in your life, you will discover the real joy of giving…and it has nothing to do with monetary gifts or gadgets!
REPLAY AVAILABLE
This is a practical and interactive online session utilising science-based, proven techniques to guarantee long-lasting results. If you can't make the online session, a replay is available 1-2 days afterwards for all registered attendees. Christmas is a distressing and lonely period for some. If you feel you need additional support to work on a personal matter is a confidential setting, you might want to consider booking a personal session with me.
ENSURING YOUR PRIVACY / TERMS & CONDITIONS
This a live and interactive online event delivered via Zoom, an easy to use and install online platform. Interaction is encouraged, but not essential for results. If you wish to remain anonymous, I recommend you change your user name before you enter the online Zoom event (you have the option to change this when you join the event with your unique meeting ID). Additionally, you can opt to turn off your video and microphone during the class so you will not be visible. Please read the following terms and conditions regarding your participation in this online event:   terms and conditions
TO REGISTER
Simply Add to Cart and follow the instructions to set up your account or checkout as a guest. There will be no charge for this month's Happiness Seekers Online.