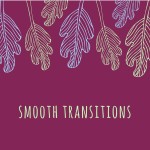 Smooth Transitions – Happiness Seekers Online
April 2017 MP3 Recording Coming Soon.
This month in Happiness Seekers Online we will be addressing the subject of transition and change.
The one thing we are guaranteed in life is that things will always change. Whether we are consciously aware of it or not, everything is changing, and it's not always a comfortable or pleasant experience.
So, with that in mind, it's time to stop trying to control the inevitable, and learn how quickly we can adapt to change, without resistance.
Just some of the transitions people may be facing:
Moving from an old job to a new one
Transitioning from working in a 'job' to starting your own business
The end of a sporting career
A change of role, such as moving from a stay at home mum to re-entering the workforce, or leaving a job to start a family.
Moving from a full house to an empty nest
The end of a significant relationship
These things are constantly happening and we need to make sure that adjustments are being made so that we can adapt as easily as possible to the changes. Often, these types of transitions are accompanied by a high level of stress and resistance. Some people may not trust that transitions can be peaceful and easy.
Join me online for another practical, results based coaching class where we will release the beliefs, emotions, feelings and memories associated with change or transition.