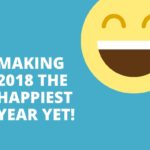 Making 2018 the Happiest Year Yet!
Welcome to the first Happiness Seekers Online for 2018.
This January, I have dedicated Happiness Seekers Online to preparing for the most amazing, limitless year ever!
A year of infinite possibilities and potential!
A year of living in flow and ease.
A year of cultivating true joy and happiness!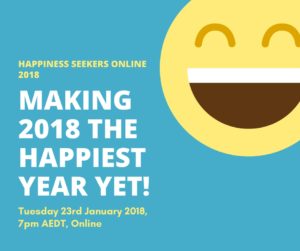 This is more than just making new year's resolutions! We will be learning how to:
Cement our resolutions, so they are guaranteed to come to fruition
Make better choices, rather than responding to life in our old, limiting ways
Develop clarity around what it is that you are really wanting in life
Understanding what makes you really happy
WHO IS THIS FOR?
Everyone! Wherever you live in the world. Whatever your time zone. Join us for 1.5 hours' of self care time dedicated to your emotional wellbeing and happiness.
REPLAY AVAILABLE
This is a practical and interactive online session utilising science-based, proven techniques to guarantee long-lasting results. If you can't make the online session, a replay is available 1-2 days afterwards for all registered attendees. If you feel triggered or need additional support to work on a personal matter is a confidential setting, you might want to consider booking a personal session with me.
ENSURING YOUR PRIVACY / TERMS & CONDITIONS
This a live and interactive online event delivered via Zoom, an easy to use and install online platform. Interaction is encouraged, but not essential for results. If you wish to remain anonymous, I recommend you change your user name before you enter the online Zoom event (you have the option to change this when you join the event with your unique meeting ID). Additionally, you can opt to turn off your video and microphone during the class so you will not be visible. Please read the following terms and conditions regarding your participation in this online event:   terms and conditions
TO REGISTER
Simply Add to Cart and follow the instructions to set up your account or checkout as a guest. You will be emailed a confirmation of your order along with instructions on how to join the online event.