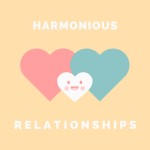 Harmonious Relationships – Happiness Seekers
Do you want a more loving relationship with yourself and/or others?
A strong, healthy relationship can be one of the best supports in your life. Good relationships improve all aspects of your life, strengthening your health, your mind, and your connections with others. However, if the relationship isn't working, it can also be a tremendous drain.
"Relationships include those with your siblings, parents, children, other family members, co-workers, bosses, and your partner/spouse."
Relationships are an investment. The more you put in, the more you can get back
Join me in May for the next Happiness Seekers Online, where we will address past hurts, frustrations, the feelings that nothing is every going to change and emotional responses to other people pushing your buttons.
Help keep a healthy relationship strong, or repair trust and love in a relationship that is on the rocks. Everyone's relationship is unique, and people come together for many different reasons. But, there is one thing that good relationships have in common…A willingness to work on what's not working. Even if that other person that challenges you is not ready to step up, you can still make amazing changes to these relationships. Watch as your relationships transform and flourish!
* Erase the conflict that is present in your relationships
* Remove the blocks stopping you from building strong healthy relationships.
* Make peace with yourself and nurture the most important relationship of all – the one with yourself!
* Understand how forgiveness really works and make peace with your past.
* Stop people from pushing your buttons, by eliminating those buttons altogether.
* View your relationships in a new light, so that you can fully appreciate the gifts they bring.
* Understand why your relationships are REALLY suffering and what you can do to save them.
* Develop a new mindset for cultivating relationships that are based on love, trust and mutual respect.
* Eliminate the war zone in your home or work environment – and start enjoying the people around you
*  Learn how to permanently transform painful or negative memories into happy ones.
I'll see you online,
Pam xo