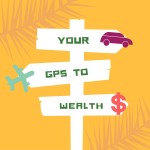 Your GPS to Wealth (Happiness Seekers)
Online, from your PC Mac or device
Thursday 21st July 7pm (AEST)
~ Are you really over being broke and struggling with money?
~ Are you sick & tired of all your money stress?
~ Are you spending way to much energy worrying about your finances?
~ Are you fed up with all the arguments about money and it putting such a strain on your relationship?
Does this sound like you or someone you know? Let me show you how to release all your fears, blocks, limitations and so much more; enabling you to make more money, attract more abundance, be more confident, gain more self belief and learn a self sustainable empowerment tool.
Check what time this is being held in your local time zone
A replay is available within 1-2 days for all registered attendees, so you can attend wherever you are in the world.
Is it time to cultivate and attract more money into your life??
Do you have some blocks around money you would like to shift?
Would you like to navigate your way out of debt?
Want to change some of the old beliefs you have around wealth, money or finances?
Join us for a clearing of limiting beliefs around money, blocks to having to work hard to get money, and opening up to receiving all the abundance of the Universe.
In this month's Happiness Seekers Online we will be focusing on how you can master a new wealth mindset, but as always anyone is welcome to work on whatever is stressing you at this time. You will be guided through this practical and interactive session.
So, take this time for you and  give yourself the self-care and emotional support you deserve.
Happiness Seekers Online
If you want to be happy and free to express yourself and you need some motivation and support to set you on the right path, please join me online! From the comfort of your own home (yes, you can turn up in pyjamas), you will be able to work through your issues, release inner conflict and stress, silence your mind and the constant negative inner chatter, to achieve a greater sense of well being and inner calm.
This monthly group is for you if you want to:
   Maintain a regular discipline of releasing inner constraints
   Sharpen your awareness of where to focus your efforts
   Know you are not alone
   Feel supported by a group of like-minded people and a highly trained happiness facilitator
   Increase your motivation to practice powerful emotional intelligence skills
   Heal yourself on a deeper level (sharing with a group is a powerful and cathartic process)
   Develop the knowledge and tools needed for a happy and satisfying life.
Once registered, you will be sent an email confirmation with the necessary link and event details.
Please remember to check your junk mail for the email and download Zoom ahead of time.
All you need to do is show up and get ready to laugh and do a lot of letting go!
Click here to find out what time the Webinar will be held in your local time zone.
Ensuring your privacy
Due to the interactive nature of this event, if you'd like to remain anonymous please change your Zoom user name before entering the event, and ensure your microphone is turned off and your audio is muted.
TERMS AND CONDITIONS
Please view our terms and conditions before registering for this event. By attending this event you are agreeing to the following terms and conditions.