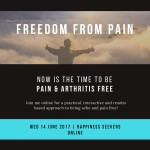 Freedom from Pain and Arthritis
ENCORE…
Sunday 18th 7 pm AEST     REPLAY AVAILABLE
Are you constantly putting up with pain in your body?
Are you finding it more and more difficult to move?
Do you suffer from: tooth pain, headaches, period pain, Arthritis, general aches and pains, joint pain, pain from an injury or physical trauma, constant pain or episodic pain? 
Quite often chronic pain sufferers will get to the point where they just decide to live with and accept the pain. Some rely on medications, other decide to grin and bear it or have discovered short term relief in the way of pain remedies.
Whatever the case, living with pain does not have to be the answer. Becoming pain free is a real and possible option.
"The body is always talking with us and sometimes we need to take time to figure out what the message is."
Join me online in June to gain relief from the pain, or eliminate the pain altogether.
No medications, just a simple, results based approach to eliminating the pain so you can start living again.
Join me online or register now to watch the replay!