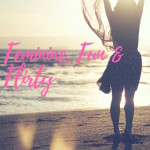 Feminine, Fun and Flirty – Unleash Your Feminine Goddess – 3-part WebClass Series
As females it is our god given right to be sexual. In fact, we are sexual beings who were designed to receive pleasure!
But, somewhere along the way, maybe due to inappropriate attention, we've taken on a lot of blame and shame and we've hidden our femininity from the world.
In this 3-part WebClass series, you will discover how to embrace that sexy, sassy, sensual, feminine and sexual goddess again. Let's give her permission to emerge with grace and dignity.
Limited Places Only Available to the First 12 Courageous Ladies … 
This may make some of you feel a little uncomfortable, fearful or apprehensive. I hear you! Some of the content matter may even be a bit cringeworthy for you. That's why it was so important I offer an event like this – because I truly believe we have been repressing that feminine part of us for so long. We have forgotten how powerful and influential we are as females. We have been hiding ourselves away. Well, time to invite that beautiful, sensual goddess out for a bit of fun and frivolity. Let's reconnect and remember why we are such fabulous females.
In this 3-part WebClass series you will learn how to:
Increase your libido
Feel confident in your body
Develop or rediscover your seduction skills
Use your feminine powers to receive graciously
Release all the sexual shame, abuse, distrust, fear, dysfunction
Eliminate memories involving inappropriate or unwanted attention
Embrace your sexual dynamo and get your 'mojo' back
Feel good about being pleasured
Increase your confidence in the bedroom
Move away from "doing" and towards "receiving"
Get to the big 'O' without guilt or pressure
Eliminate the pressure to perform
Tackle the "I'm too busy" syndrome
Are you ready to reconnect with your feminine goddess? This is a practical and interactive WebClass series, run over three consecutive weeks, utilising science-based, proven techniques to guarantee long-lasting results. It'll be fun, flirty and a little naughty, so prepare to step into your magnificence and let that Goddess shine!!!
WEBCLASS DATES & TIMES –

New Dates
3 x 1.5 hour online WebClasses over three consecutive Tuesday evenings:
Tuesday 4/7/2017, 7.00pm AEST
Tuesday 11/7/2017, 7.00pm AEST
Tuesday 18/7/2017, 7.00pm AEST
Program Cost: $97
UPGRADE TO MY SPECIAL VIP OFFER – More Value, Accelerate Your Results
If you are one of the next five ladies to purchase a ticket, you will have the option of upgrading to a VIP package:
3 x web classes (valued at $97)
+
A personalised, one on one consultation with Pam (normally valued at $500) – to accelerate your results and break lifelong patterns and habits. 
All for only $247 AUD
To upgrade to the VIP option simply purchase a standard ticket below and send Pam an email (pam@pamwright.com.au) with your desire to upgrade.
Note – If you have some serious challenges such as low self confidence, negative body image, difficulty reaching orgasm, previous sexual trauma or abuse, which you would prefer to address in a confidential one-to-one setting, you might want to consider upgrading with the VIP option. I have worked with countless men and women from all over the world who have experienced sexual trauma, abuse, dysfunction and addictions with great and permanent results. During a personalised session, we go deeper. We get to the root of what's holding you back or inhibiting you from freely expressing your feminine Goddess. We break lifelong patterns and habits.